5 E-Commerce Podcasts You Need to Know
Podcasts are indispensable nowadays. Whether on the way to work, to kill time or even to fall asleep: Podcasts are always a good idea. And due to the large variety of topics there is something for everyone!
Of course, branchbob is very interested in what is happening in the world of eCommerce. And for all other eCommerce enthusiasts we have a list of podcasts here, you should definitely need to know!
We hope you enjoy reading this article!
1. eCommerce Fuel
The eCommerce Fuel Podcast is a weekly show, dedicated to help 7-Figure store owners to grow their business. Hosted by Andrew Youderian, who worked a few years in the investment banking world, this podcast provides tips, strategies and stories in nearly 400 episodes, which have been listened to over 3 million times. The team of eCommerce Fuel also publishes an annual eCommerce Trends report that dives deep into what's happening in our world. From sales growth to Amazon adoption, margins to store owner demographics, it's an information source of 7- and 8-figure seller industry data. Fans of this podcast describe it as a "can't miss podcast" offering "insightful advice and information that is helpful to anyone that listens".
If you're interested in that kind of stuff, and don't take yourself too seriously, this podcast is just the right thing for you!
Available on Apple Podcasts, Spotify, Google Podcasts and Stitcher.

2. My Wife Quit Her Job
This podcast is an interview based show, where the host Steve Chou speaks with small business entrepreneurs, who are really good at their jobs online. All of the featured entrepreneurs bootstrapped their businesses and started their own ventures. Steve discusses the strategies for online success of each entrepreneur and provides you with some takeaways for your own business. As a carrier of both a bachelors and a masters degree in electrical engineering from Stanford University, Steve also spent his time studying entrepreneurship and the mechanics of running small businesses. Great knowledge guaranteed! Recommended by fans, this podcast is described as "Extremely helpful!".
Available on the website, Apple Podcasts and Stitcher.

3. The Fizzle Show
This is a podcast for creative entrepreneurs and honest business builders who want to earn a living doing something they care about. The Fizzle Show Podcast provides weekly insights for big and small online business owners, focusing on topics like modern business essentials, self employment, motivation, productivity, audience growth, blogging, podcasting, content marketing, work-life balance and more! "Funny, smart, and informative stuff on real life living as an entrepreneur." Hosted by Corbett Barr, Chase Reeves and Steph Crowder, this podcast published a new episode every single week since 2013 and has now 300 episodes online, with an average length of about 50 minutes per episode. So there is a lot of content for you to consume.
Available on Apple Podcasts, Overcast, Pocket Casts, Stitcher and Soundcloud.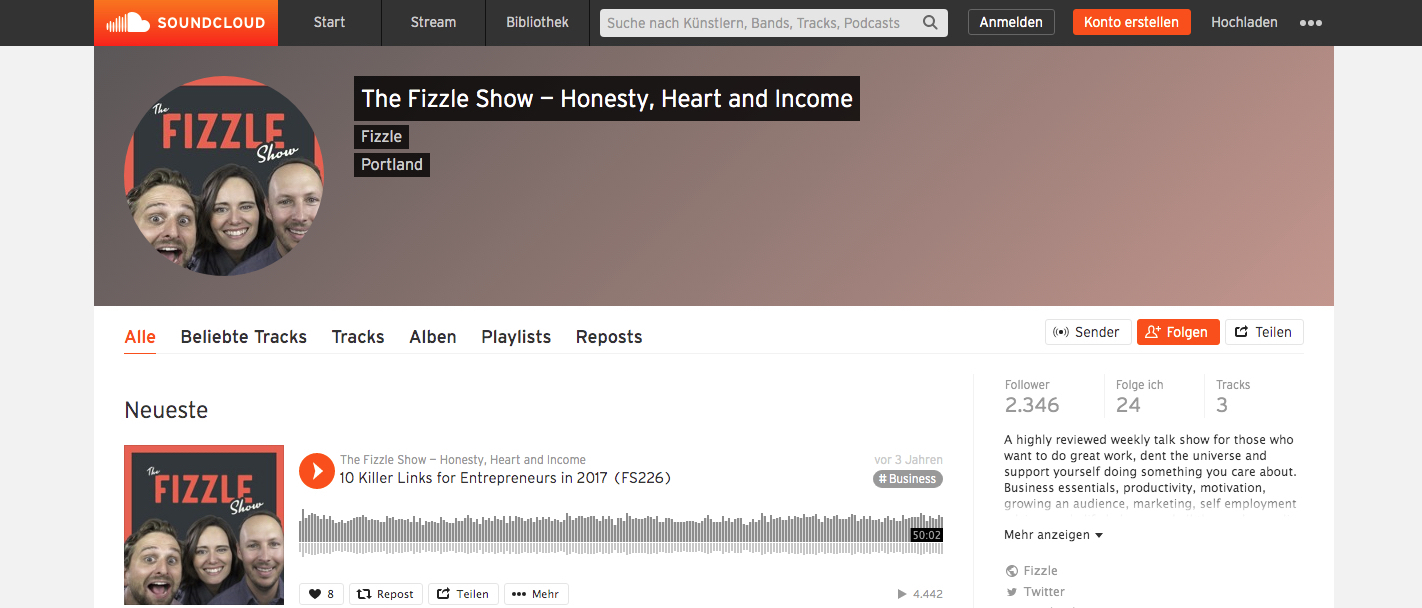 4. eCommerce MasterPlan
The eCommerce MasterPlan podcast includes tips on how to acquire new customers, which kind of technology you should be using and possible ways to save some time in your eCommerce business. There is a new episode every week, including interviews with business owners, managers and marketers. No matter if an episode is about an online store from Australia, a brick and clicks business from the USA or a UK mail order retailer, there is always a useful lesson for you and your business.
Fans describe it as a ''Must listen for everyone in Ecom'' and the best podcast on this topic. So if you are running an e commerce business and you want to acquire new customers, improve your customer retention or you are just looking for some reassurance that you're on the right track, you should check out this podcast.
Available on the Website, Apple Podcasts, Spotify and Google Podcasts.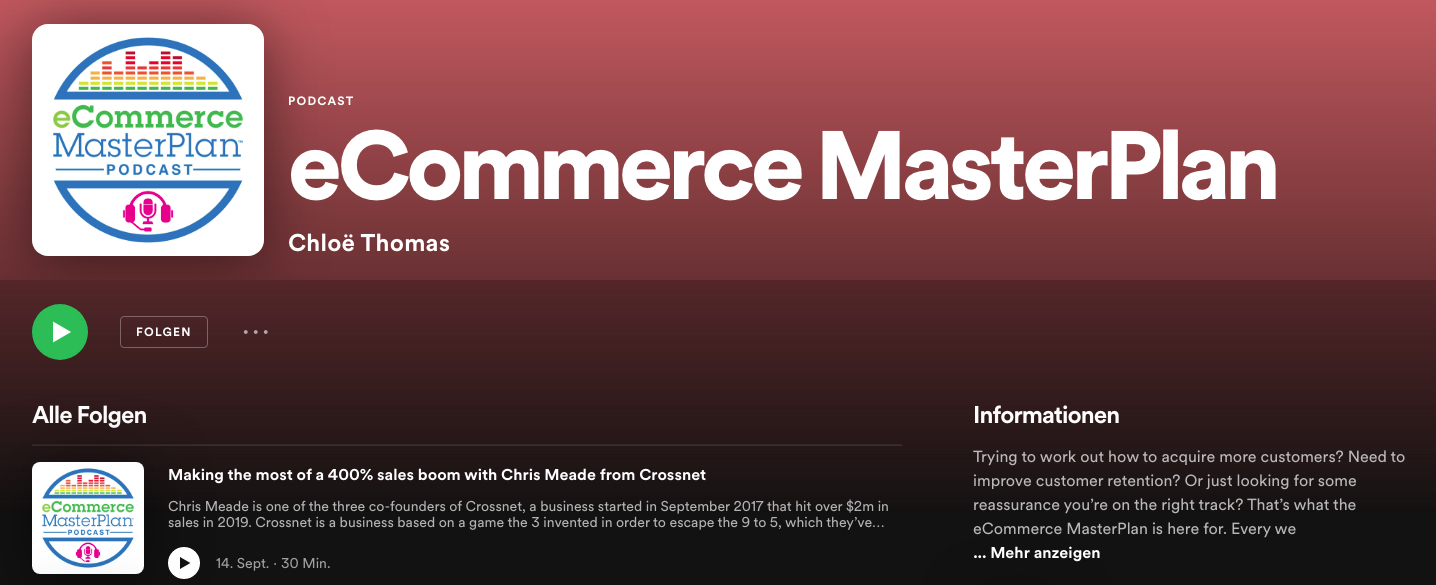 5. Ecommerce Conversation, from Practical Ecommerce
Ecommerce Conversations is a podcast brought to you by Practical Ecommerce. The host, Eric Bandholz, is the founder and CEO of the American men's grooming company ''Beardbrand''. In weekly episodes he interviews inspirational entrepreneurs and executives, talking about the realities of selling online. Past topics include finance and accounting issues, marketplace selling, hiring and firing, custom manufacturing, search engine optimisation and many more. In his past episodes, Bandholz e.g. invited the CEO of a US company to interview him on how to succeed in Europe, found out how the entrepreneur Web Smith has founded and sold many different e commerce businesses and had a talk with an entrepreneur who is creating and selling her own natural deodorant.
Fans of this podcast describe its content as ''incredibly actionable and compelling'' and also note that it is spotlighting great tactics and trends in order to help merchants with growing their own online business.
Available on the website, Apple Podcasts, Spotify, Stitcher and Soundcloud.

These were our 5 podcast recommendations for all those who are interested in eCommerce. We are sure that you will find some tips & tricks as well as valuable experiences from which your business can benefit. The exchange between merchants and experts remains a valuable resource. It's great that so much knowledge and expertise is available for free.
Have fun listening!