Sales are trickling down quietly - How to prepare your online shop for the Christmas business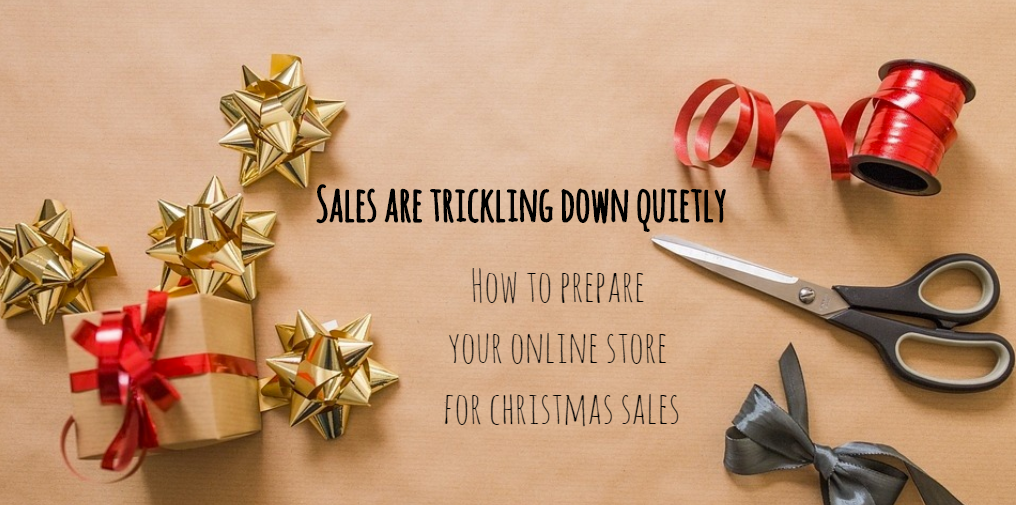 On Sunday it's the first Advent and with it officially time to think about Christmas presents. It's time to make your online shop winterproof and prepare it for the onslaught of Christmas shopping. Step number 1 is already done, because no matter which mobile device can be used to shop in your branchbob shop and this is a relevant purchase criterion for more than 70% of online shoppers this year. Everything else you need to know to make your sales trickle in this pre-Christmas season you can now learn from us.
Start on time
Of course it's annoying to find gingery cookies in the supermarket when you're just back from your summer holiday. But from November on it's definitely never too early to get your customers in the mood for the pre-Christmas season. Adapt your shop design and homepage slider according to the season. Even small changes will attract your customers' attention and can change their mood positively. Also use your social media channels to spread Christmas anticipation by teasing what new products or discounts are waiting for your customers. Even if your target group is not yet actively looking for Christmas presents, your "shop decoration" and your announcements will be recalled at the moment of stress "I still need a Christmas present for XY" and can lead to a detour to your online shop and product purchase.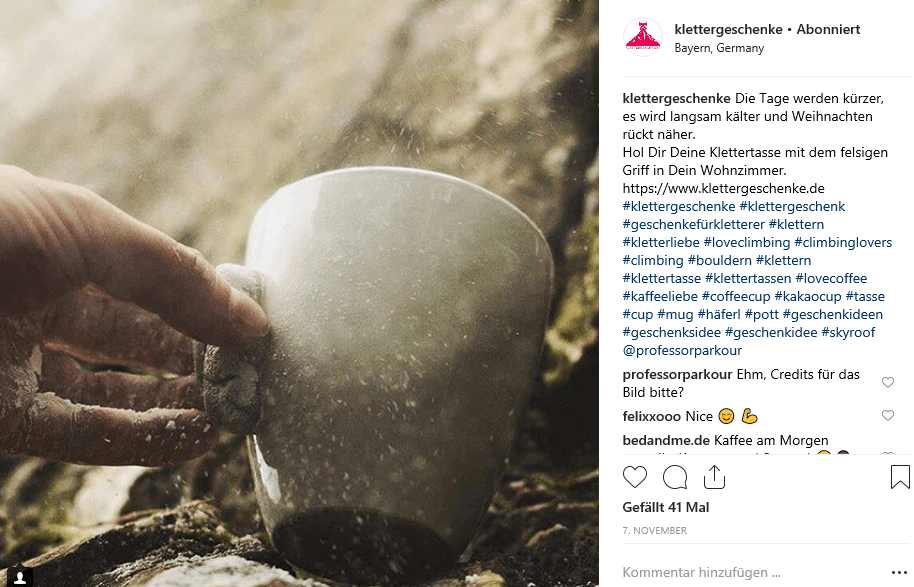 Sell your products as the ideal gifts
The best way to do this is to concentrate on 4-5 bestsellers that also sell best during the year. You can advertise them on your homepage with the Slide Show. In addition, vouchers and gift boxes can be a great gift option, which is why you should definitely consider offering something like this. Keep in mind that your target group during the pre-Christmas period is not your regular customers, but their relatives and friends. The texts should therefore be adapted so that even a non-wine connoisseur can find the optimal wine to give away without much effort. Also for this reason the concentration on 4-5 products is a good decision, so the buyer is not overtaxed and has the feeling, he has found the optimal gift.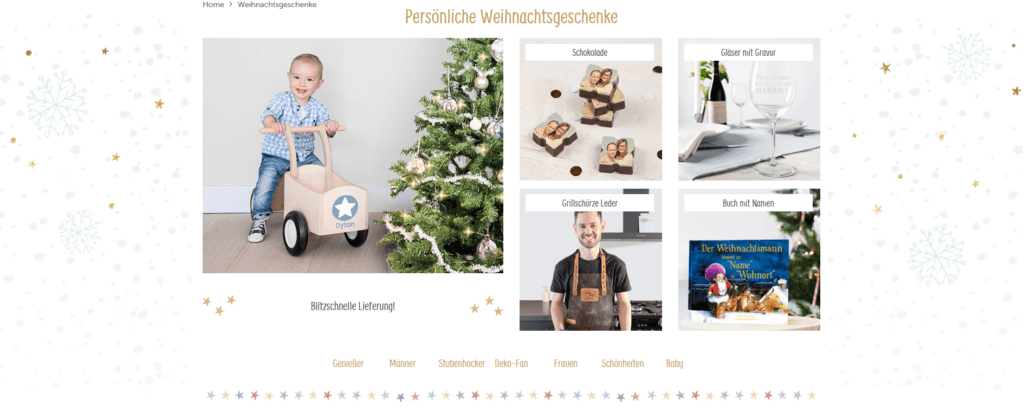 Be easy to find
That's important all year round, but it's Christmas time that benefits you the most. Data collection on this topic has shown that over 80% of Christmas gift searches are organic, using search engines such as Google or Bing.
1. Phase: Collect inspiration and gift ideas.
If you try to put yourself in the position of your customers, you can imagine this first step yourself. The customer doesn't have a real idea for a gift yet, and just starts looking for it. Here it is important to be clear to which category of search approaches his products belong and which keywords might be mentioned during the search. Do your products belong to "Gifts under 30€" or to "Small gifts for 10€"? Are they more "gifts for the partner" or "gifts for people who already have everything"? Once you've thought about all the keywords, you can add them to your meta-description and make sure that your shop ranks higher in such searches. You can find out how to change your meta description in your branchbob shop and what you have to consider in doing so in our blog post on search engine optimization here.
Other possibilities are blogs or portals that present their top 10 Christmas gifts. In addition to that, the recommendations of bloggers and influencers have also become increasingly important for forming opinions. That's why the motto here always is: Try to cooperate, ask for nothing! Simply offer to send product samples in return to a mention of your product in an article or video in which Christmas gift ideas are presented. Like that your product can gain attention and at the same time you get feedback on the quality of your product. You can get a little insight into influencer marketing with Instagram here.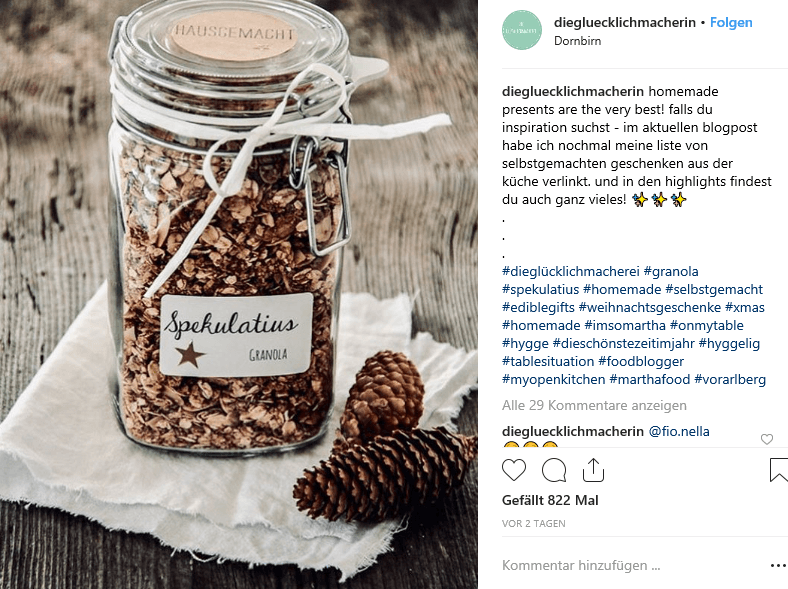 2. Phase: Search in a certain genre
Now that the customer has decided, for example, to give away a voucher, his search behaviour looks more specific, and you should try to find out these searching terms. You sell wine and vouchers for wine tastings? Then your shop will probably be found by people looking for "Give good wine away" or "Wine tasting voucher near xy". This should also be included in your meta description, but also in the texts of your shop, e.g. in product descriptions and your home page text. Because only if Meta Description and shop contents match, this has a positive effect on your Google Ranking. In order to stand out from your competitors, it is especially important to advertise your special products and not to rely on generalizations. If, for example, your wine tasting is connected with a wine hike or takes place in the dark, you should also sell it that way, because this is the only way you have the chance to stand out and appear at the top of specific search queries.
An extended possibility is to start a Google Adword campaign and do it like the big online shops. You have to consider whether you can afford to start a search engine optimization of this kind just in the time when the click rates are probably the most expensive and the competition is higher than ever before. On the other hand, a clever Adword campaign can make your shop known overnight, which could not only achieve high sales figures, but also long-term awareness of your shop. It is always important to adapt your shop exactly to the topic, as well as to have high quality pictures, appealing texts and a precise target group analysis.
3. Phase: Search in your shop
Once the customer has found his way into your online shop, the most important part remains to be mastered. Within a few seconds, the customer will subconsciously decide whether he is considering shopping in your shop or not. If he doesn't like your shop design or the structure at first glance, this will in most cases lead to the back button being clicked and no purchase taking place. Your shop should look appealing and present the most important products on the homepage. If it's properly structured and the customer quickly finds his desired product, half the rent is paid and it's finally about the product itself.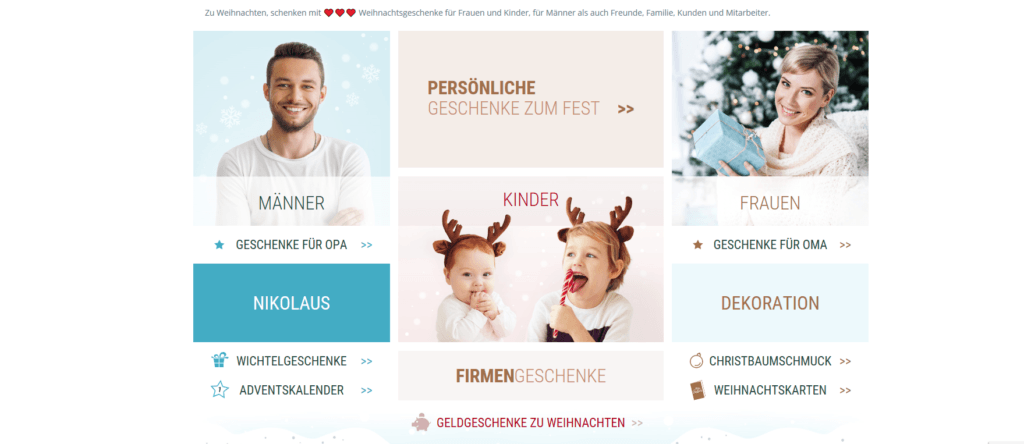 Discounts, discounts, discounts
No matter if they are your regular customers or people who are in your shop for the first time. A crossed-out price catches everyone's eye and usually releases messenger substances in the human brain that trigger reward feelings when the product is then purchased at a lower price. Calculate for yourself how much discounts you can give and make a plan for the exact period of the discounts. If they are limited, this is another push factor towards purchasing. With limited time periods you can also consider a suitable marketing concept, such as special offers on the four Advent Sundays or even a discount Advent calendar, where every day a different product is reduced. However, all this must be communicated promptly on your homepage and your advertising channels, so think carefully about how complex your discount actions should be.

Feel-good atmosphere in your shop
If the customer is in your shop and convinced of the product and price of the product, only the order process still remains. Here are some steps that statistically are among the most common reasons for shopping cart cancellation.
Delivery charges
The general rule is: Never be more expensive than Amazon. The Internet giant is the number 1 comparison platform in Germany and their shipping costs have gone down as an unwritten rule in German e-commerce. These amount to 2.99€ for the normal standard dispatch (in exceptional cases also 3.99€) and 4.99€ for the Premium dispatch. Free shipping starts at 29€. If your shipping costs deviate strongly from these "guidelines" without offering more service for the customer, the customer will probably visit one of your competitors.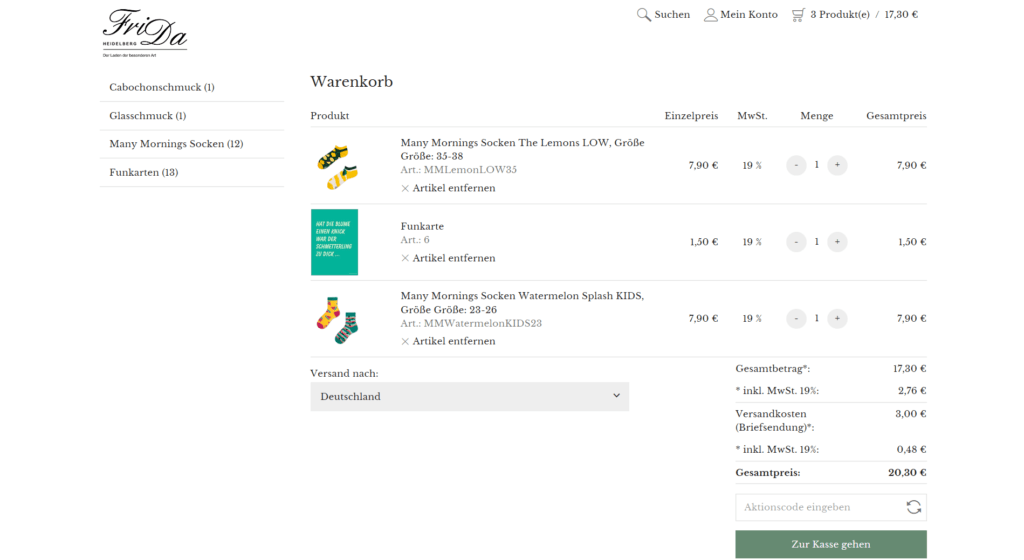 2. Delivery time
Especially during the Christmas season it is very important for online shoppers to be able to rely on delivery times in order to know for sure that the gift will arrive on time. You'll get this confidence when the shipping time is no more than two business days, and by offering express shipping in addition, which guarantees last-minute shoppers to shop in your shop even a few days before Christmas.


3. Payment methods
However, the biggest hurdle before making a purchase is probably the choice of payment methods. Nothing is more annoying than a customer who cancels the purchase at this late stage only because he has no time to set up a customer login or because he cannot find his favourite payment method. So the advice is: Offer as many payment methods as possible, or at least the most popular and fastest ones. These include Amazon Pay, but also classics like PayPal, credit card payment and instant bank transfer. The faster and more habitual the payment process can be, the better. With branchbob you can offer all popular payment methods, use this chance!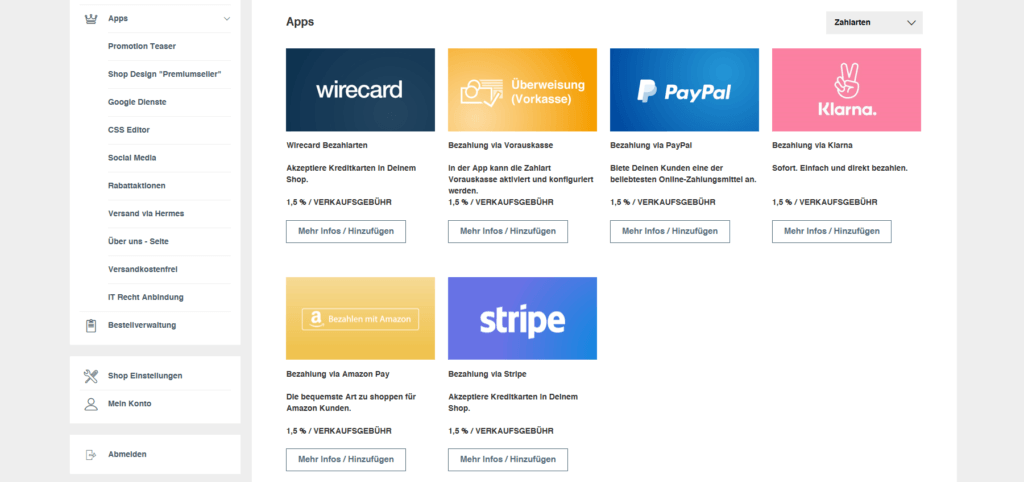 Result
If your shop is easy to find and you use these tips and tricks to make shopping as pleasant as possible for your customers, nothing should go wrong during this pre-Christmas period. Important for the next year is to collect as much data as possible, because only then you can constantly improve your shop. So write down in which period you sold the most, what your top sellers were and how many of your discount campaigns were noticed. You should write down all other ideas and suggestions for improvement you come up with during the Christmas business and try to implement them early enough next year.


But for this Christmas business we now wish you all the best and a stress-free pre-Christmas period.
Your branchbob Team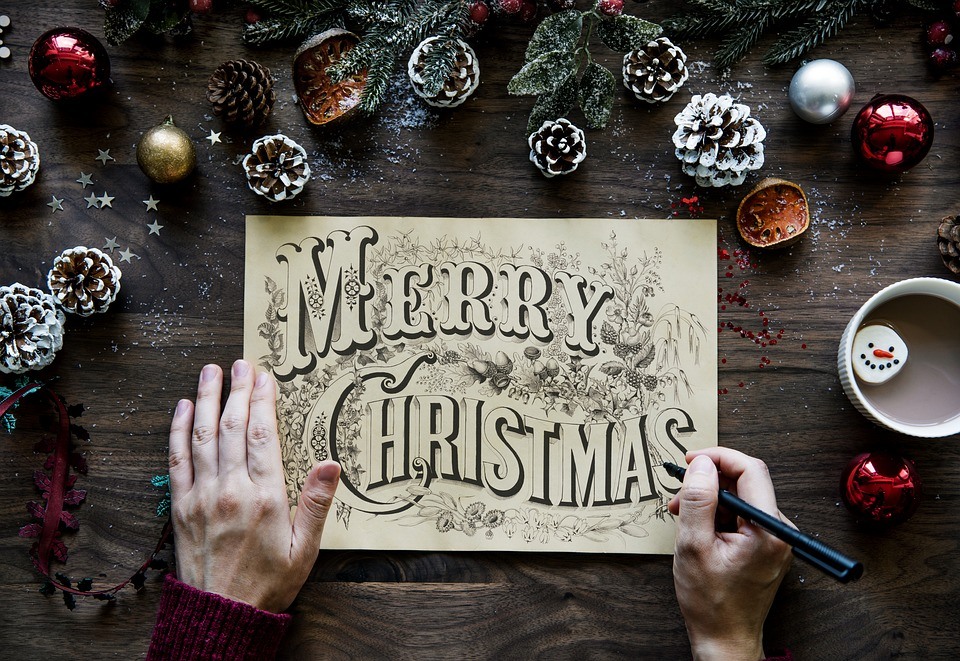 Lisa Weber