How PayPal Express can increase your revenue by 30%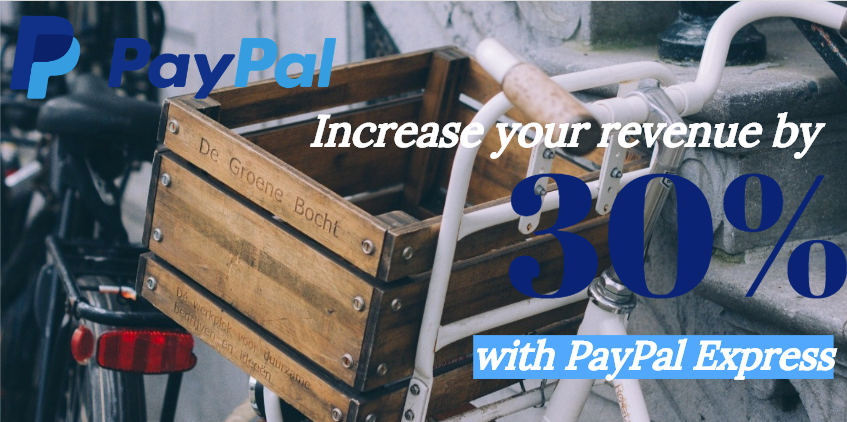 Just a payment method? Not quite. With almost 300 million active PayPal users worldwide (figures for the last quarter of 2019), PayPal has become an indispensable part of e-commerce. The main reasons: Simple and fast. With PayPal Express, all this is now even faster and more convenient than ever. All advantages and how you can integrate PayPal Express into your online shop, now at a glance:
1. Familiar terrain
Every online shop looks a bit different, and everything that differs widely from the giants Amazon, Zalando and Co in terms of design and technology has an effect of unfamiliarity on your customers. Especially smaller online shops can quickly arouse distrust, if not everything looks professional. It's particularly critical when it comes to checking out, because it's about your customer's actual money and data. If your customer sees a "familiar" logo here, the PayPal button, or the pink Klarna lettering, this transfers immense security to customers who frequently use these payment portals. Since PayPal Express is not just a simple payment method, but leads your customer immediately from your shop to PayPal, GiroPay etc., it is much more likely that your customer completes the purchase and does not change his mind.
2. Speed
A second big argument is the acceleration that PayPal Express brings into the purchasing process. Since your customer doesn't have to leave any data in your check out, but is forwarded directly to PayPal & Co, where all necessary payment data and the shipping address are already stored, the actual purchase does not take more than 2 clicks. This speed is particularly convincing when shopping on your smartphone while on the move, and in very few cases these circumstances leads to a cancellation of the purchase. If you offer PayPal Express, your customer can also choose between GiroPay, Klarna, SEPA Direct Debit and PayPal itself, as all buttons are integrated into your shopping cart.
3. Convenience
The most annoying thing about shopping in "foreign" online shops, where you buy for the first time, is entering all data, from name to shipping address and account data. Especially with a smartphone for a spontaneous purchases, typing into tiny input fields is a high stress factor. However, not everyone creates a customer login since your shop is not always rated so high on the first visit that it is worth it for your customer to make such an effort. But if your customer can be directed with two clicks to a page that already knows all its data and only asks for confirmation to complete the purchase, hardly anyone will change their mind within this short period of time. The impulse purchase is made before your customer postpones the decision and if he is satisfied with your service and product, he will certainly buy again from you.
4 Favourite currency and language for your customer
Since the PayPal Express Checkout page is a personalized page for your customer once he has entered his email address, your customer can pay in his preferred language and also use the service to pay in his preferred currency. As a shop owner, you have no effort and get your money without detours in your preferred currency from PayPal. You and your customer can stay in your comfort zone and PayPal will handle the rest of the exchange. In addition, PayPal will immediately send you all relevant data, so that you only have to take care of the shipping.
Who can use PayPal Express at all?
Anyone who has a PayPal Business Account can also use PayPal Express in their branchbob online shop. If you haven't created this type of account yet, you can do so quickly and easily. This type of account is also free and available to everyone. Click here to create a PayPal Business Account. Every customer can then use PayPal Express to pay with his favorite payment method.
How do I integrate PayPal Express into my online shop?
If you have created a business account with PayPal, which makes sense anyway to separate private and business payments, you can easily set up the connection to PayPal Express in 2 minutes. You can find the app under payment methods, where you only have to enter Client ID and Secret and the payment method is already active. Where to find Client ID and Secret exactly and a step-by-step video we offer you here: